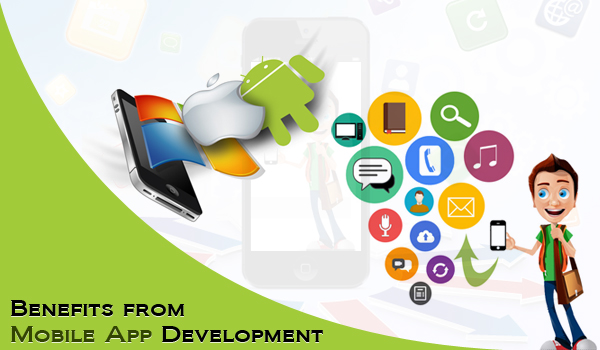 What are the business benefits offered by smartphone app development?
The benefits are numerous. Firstly it increases brand awareness. The quicker and better app developed will publicize your brand in a better way. A better performing app is always welcome in the online market and will attract a large number of new users. This indirectly means a better advertisement for your business.
Customer interaction is another great advantage offered by app development. The newer developments will only make all types of business communication more pleasant and appealing to all your customers. You can get a good edge over your competitors. Whenever the organization begins to develop business apps for smart-devices, you are provided with the option of impacting the customers' mind greatly. This increases the face value of your organization.
Customer loyalty is also established through app development as people find it easier to interact with your company. People find it better to access all related information and having some fun apps will only increase the clientele. Moreover, it is also a great way of creating newer avenues for revenues for your business. Along with promotional benefit, subscription will also provide a good source of revenue. Hence, all kinds of development of Smartphone related applications help in business increase. Therefore there is a two way benefit; one you can promote the organization and secondly yo
The benefits of mobile phone applications
18 August 2014 | Trish Rock | No Comments
The world has gone mobile! More and more people now use their smart phones to search for things on-the-go rather than sitting in front of computers at home or in the office.
Each day, over 650,000 Android phones are being activated, plus all the new networks coming on board with the Apple iPhones.
Combined, that is one million smart phones being turned on daily.
Mobile apps are here, and will increasingly become a vital element in the total marketing plan for businesses as customers are looking for convenience, ease and instant results while on the move in their busy lives.
What Are Mobile Apps for Business?
A mobile application is a way for clients to connect with you quickly and easily through their mobile device. Unlike a game app, which is purely for pleasure, a business app provides value to your existing clients, and is an easy way for you to gain new clients, loyalty and sales.
The Benefits to Your Clients:
Fast one-tap connection to your information, offers, website, location map and contact details which they can access any time, right in the palm of their hand Easily readable content designed to fit the screen on their phone unlike many websites they may browse The ability to interact with your business while they are on-the-go Opportunities to share your info with their friends – create social buzz and gain loyalty rewards Special offers only available to app holders
The Benefits to Your Business:
Cost savings by leveraging your current website investment through increased visits by app holders Maximisation of your social media investment with automatic linking to your Facebook and Twitter accounts Easy database collection and lead generation Opportunity to offer discounts and coupons via the app Ability to send push notifications through the app (97% open rate) GPS capabilities, QR code options, podcasts, Youtube channel and voice message recording capabilities
There are several choices when it comes to getting into the mobile market arena, but not all of them will suit your business. The best strategy is to create a plan of the exact benefits and features you want in an app (the only limits are your imagination), then you will have a better understanding of what results you are looking for when you approach an app developer to discuss your needs.